| | |
| --- | --- |
| Published November 21, 2021. Updated November 26, 2023. Open access. | Gallery ❯ |
Cuenca Sticklizard (Pholidobolus macbrydei)
Reptiles of Ecuador | Sauria | Gymnophthalmidae | Pholidobolus | Pholidobolus macbrydei
English common names: Cuenca Sticklizard, MacBryde's Sticklizard, Red-striped Sticklizard.
Spanish common names: Cuilanpalo de Cuenca, cuilán de franja roja.
Recognition: ♂♂ 19.5 cmMaximum distance from the snout to the tip of the tail. Snout–vent length=5.6 cm. ♀♀ 13.8 cmMaximum distance from the snout to the tip of the tail. Snout–vent length=5.6 cm..1–3 Sticklizards differ from other lizards by having short but well-developed limbs, overlapping striated sub-hexagonal dorsal scales, and a brownish dorsal pattern with longitudinal stripes.1,4 The presence of six-sided finely wrinkled dorsal scales distinguishes Pholidobolus from other co-occurring small brownish lizards such as those in the genera Macropholidus and Riama.5 Towards the north of its range, the Cuenca Sticklizard (P. macbrydei) can be confused with P. prefrontalis; to the south, with P. dolichoderes. From these, it differs by lacking prefrontal scales and by having a red lateral stripe in males (stripe absent in the other species).1,6 Males of P. macbrydei differ from females by having a broader head and a red stripe from the opening of the ear to the forearm.1,7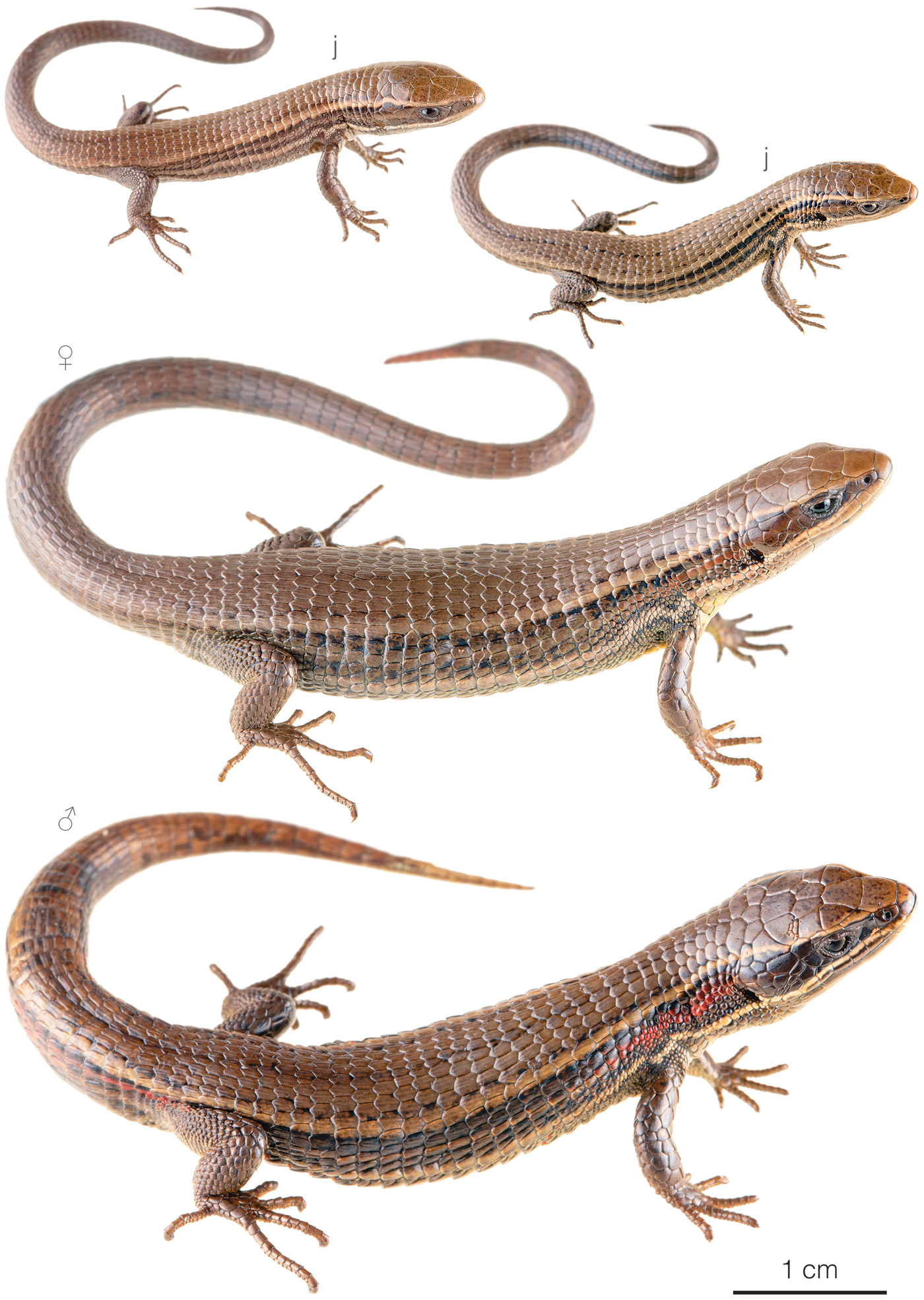 Figure 1: Individuals of Pholidobolus macbrydei from Dos Chorreras, Azuay province, Ecuador. j=juvenile.
Natural history: Pholidobolus macbrydei is a small lizard that occurs in high densities in the interior, border, and clearings of high evergreen montane forest (including Polylepis forests), humid highland shrublands, and paramos.3,8 The species also occupies disturbed areas such as pastures, crops, planted forests (pine and eucalyptus), rural gardens, and roadsides.2 Cuenca Sticklizards are diurnal and forage mainly on the ground.2 At night or during cloudy days, individuals can be found hidden under rocks, logs, piles of stones, and trash, or in the axils of Puya plants.1,2 During sunny days, they can be seen basking on Agave or Puya leaves, stones, rocky outcrops, or ground-level surfaces near grass tussocks.1,2 When threatened, Cuenca Sticklizards flee under stones, logs, or into tall grass. If handled, they may shed the tail or bite.2,3 There are records of egrets9 and lizards (Stenocercus festae)2 preying upon individuals of P. macbrydei. Some individuals carry parasites externally (mites) and internally (cestodes).10 The diet of P. macbrydei includes insects, earthworms, and spiders.3 Pholidobolus lizards in general usually deposit two eggs per clutch, but P. macbrydei lays clutches of up to four eggs.2 A communal nest with 15 eggs was found under a rock,2 and the nesting sites can be used repeatedly.1 During mating, males typically approach the female from the side, licking her body; if the female is receptive, the male bites her neck, surrounds her dorsal region with the hind limbs, and copulates; if the female is not receptive, she drags her body and twists her tail.1
Conservation: Vulnerable Considered to be facing a high risk of extinction in the mid-term future..11 Pholidobolus macbrydei is proposed to be included in this category, instead of Least Concern,8 following IUCN criteria,12 because the species' extent of occurrence is small (~5,837 km2; Fig. 2), severely fragmented, and continues to decline in extent and quality due to rural-urban expansion. Based on maps of Ecuador's vegetation cover published in 2012,13 ~42% of the species' potential distribution is now devoid of native vegetation. Despite being considered common, the species is experiencing a decrease in population size, particularly in urban areas where it does not sustain high densities for extended periods.2 Habitat destruction is the most important threat to the long-term survival of the species.8 Although found in protected areas (Cajas National Park, Aguarongo Protected Forest, and Mazán Protected Forest), less than 3% of the species' total potential area of distribution is inside these areas, and the remaining populations are in a fragmented landscape mosaic rather than in connected suitable habitats.
Distribution: Pholidobolus macbrydei is endemic to an estimated 5,837 km2 area in the Andes of southern Ecuador, provinces Azuay, Cañar, and Loja (Fig. 2).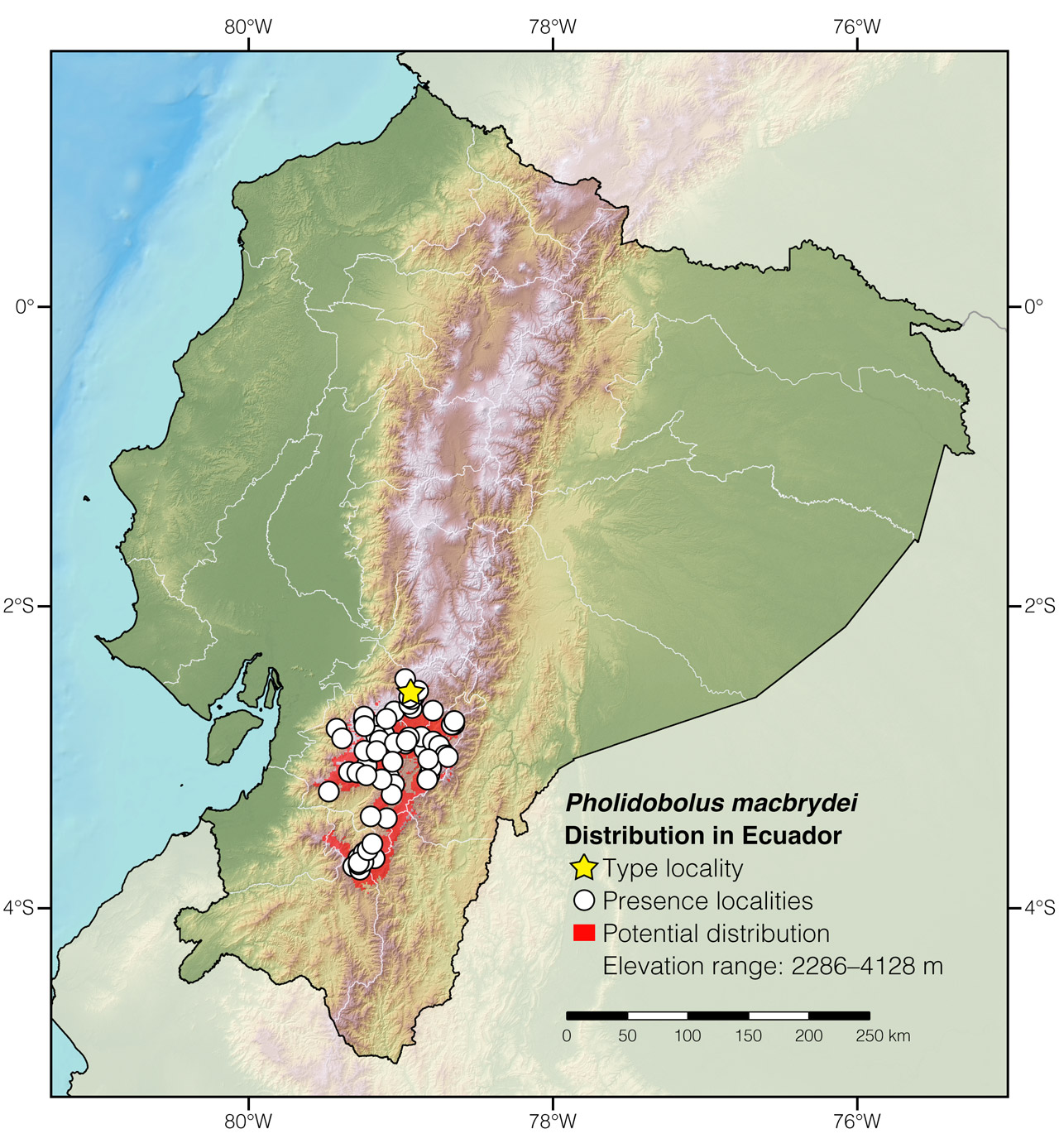 Figure 2: Distribution of Pholidobolus macbrydei in Ecuador. The star corresponds to the type locality: Hacienda Oeste, Cañar province. See Appendix 1 for a complete list of the presence localities included in the map.
Etymology: The generic name Pholidobolus comes from the Greek words pholidos (=scale) and bolos (=lump),14 and probably refers to the imbricated or mounted scales. The specific epithet macbrydei honors Dr. Bruce MacBryde, former professor of Universidad Católica del Ecuador, who collaborated in the field phase and description of this species.1
See it in the wild: Cuenca Sticklizards can be observed with almost complete certainty during a short, targeted day visit to the outskirts of Cuenca, especially west of the city along the lush farmlands irrigated by the rivers Tomebamba and Yanuncay. The lizards can be found by searching under rocks and logs in pastures nearby remnants of native vegetation or simply by looking along stone walls and fences during sunny days.
Author: Amanda QuezadaaAffiliation: Tropical Herping (TH), Quito, Ecuador.,bAffiliation: Laboratorio de Herpetología, Universidad del Azuay, Cuenca, Ecuador.
Editor: Alejandro ArteagacAffiliation: Khamai Foundation, Quito, Ecuador.
Photographer: Jose VieiraaAffiliation: Tropical Herping (TH), Quito, Ecuador.,dAffiliation: ExSitu, Quito, Ecuador.
How to cite? Quezada A (2023) Cuenca Sticklizard (Pholidobolus macbrydei). In: Arteaga A, Bustamante L, Vieira J, Guayasamin JM (Eds) Reptiles of Ecuador: Life in the middle of the world. Available from: www.reptilesofecuador.com. DOI: 10.47051/ZFVN3657
Literature cited:
Appendix 1: Locality data used to create the distribution map of Pholidobolus macbrydei in Ecuador (Fig. 2). Go to the section on symbols and abbreviations for a list of acronyms used. Asterisk (*) indicates type locality.
| | | | |
| --- | --- | --- | --- |
| Country | Province | Locality | Source |
| Ecuador | Azuay | Bioparque Amaru | Parra et al. 2020 |
| Ecuador | Azuay | Bosque Protector Aguarongo | MZUA.RE.0193 |
| Ecuador | Azuay | Bosque Protector Aguarongo, San Gabriel | iNaturalist |
| Ecuador | Azuay | Cerro Negro | This work |
| Ecuador | Azuay | Cerro Patacocha | Torres-Carvajal et al. 2014 |
| Ecuador | Azuay | Chanlud | This work |
| Ecuador | Azuay | Chordeleg, 10 SE of | Venegas et al. 2006 |
| Ecuador | Azuay | Cochapamba | Parra et al. 2020 |
| Ecuador | Azuay | Cochapata | Torres-Carvajal et al. 2014 |
| Ecuador | Azuay | Cuenca del Río Mazán | Photo by Jose Caceres |
| Ecuador | Azuay | Cuenca, 13 km W of | Parra et al. 2020 |
| Ecuador | Azuay | Cuenca, 20 km NW of | Torres-Carvajal et al. 2014 |
| Ecuador | Azuay | Cuenca, Llacao | MZUA.Re.0443 |
| Ecuador | Azuay | Cumbe, 10.5 km S of | Montanucci 1973 |
| Ecuador | Azuay | Cumbe, 21.6 km S of | Montanucci 1973 |
| Ecuador | Azuay | Cutchil, 3.9 km S of | Montanucci 1973 |
| Ecuador | Azuay | Cutchil, 6.2 km S of | Torres-Carvajal et al. 2014 |
| Ecuador | Azuay | Dos Chorreras | Parra et al. 2020 |
| Ecuador | Azuay | Girón, 4.4 km NE of | Montanucci 1973 |
| Ecuador | Azuay | Gualaceo | Parra et al. 2020 |
| Ecuador | Azuay | Gualaceo–Limón road | Venegas et al. 2006 |
| Ecuador | Azuay | Gualaceo–Plan de Milagro road | Venegas et al. 2006 |
| Ecuador | Azuay | Laguna Condor Cocha | MCZ 154635 |
| Ecuador | Azuay | Laguna Llaviucu | This work |
| Ecuador | Azuay | Maylas | Torres-Carvajal et al. 2014 |
| Ecuador | Azuay | Maylas Collay Protected Forest | Online multimedia |
| Ecuador | Azuay | Mazán Protected Forest | Parra et al. 2020 |
| Ecuador | Azuay | Osorancho, 1.2 km E of | Torres-Carvajal et al. 2014 |
| Ecuador | Azuay | Páramo de Quimsacocha | Venegas et al. 2006 |
| Ecuador | Azuay | Parque Lineal Puertas del Sol | This work |
| Ecuador | Azuay | Parque Machángara | iNaturalist |
| Ecuador | Azuay | Patul road | Torres-Carvajal et al. 2014 |
| Ecuador | Azuay | Represa El Labrado | MCZ 154632 |
| Ecuador | Azuay | Río Quinoas | Torres-Carvajal et al. 2014 |
| Ecuador | Azuay | Río Yanuncay | This work |
| Ecuador | Azuay | San Antonio de Chaucha, 5 km NE of | Parra et al. 2020 |
| Ecuador | Azuay | San Gregorio | Torres-Carvajal et al. 2014 |
| Ecuador | Azuay | Sevilla de Oro, 5 km from, on road to Méndez | USNM 196178 |
| Ecuador | Azuay | Sevilla de Oro, 9 km from, on road to Méndez | USNM 196192 |
| Ecuador | Azuay | Sigsig | Torres-Carvajal et al. 2014 |
| Ecuador | Azuay | Sigsig, 12 km S of | Venegas et al. 2006 |
| Ecuador | Azuay | Sigsig, 7 km N of | Parra et al. 2020 |
| Ecuador | Azuay | Soldados | This work |
| Ecuador | Azuay | Sustag | This work |
| Ecuador | Azuay | Susudel | Venegas et al. 2006 |
| Ecuador | Azuay | Tambillo | KU 196338 |
| Ecuador | Azuay | Tarqui | Torres-Carvajal et al. 2014 |
| Ecuador | Azuay | Tres Chorreras | Torres-Carvajal et al. 2014 |
| Ecuador | Azuay | Tres Cruce | Venegas et al. 2006 |
| Ecuador | Cañar | Biblián, 14.2 km N of | Montanucci 1973 |
| Ecuador | Cañar | Biblián, 6 km N of | Montanucci 1973 |
| Ecuador | Cañar | Biblián, 9.1 km N and 2.3 km W of* | Montanucci 1973 |
| Ecuador | Cañar | Buerán | Montanucci 1973 |
| Ecuador | Cañar | Cañar, 2 km S of | This work |
| Ecuador | Cañar | Ingapirca | Torres-Carvajal et al. 2014 |
| Ecuador | Cañar | Juncal, 1.6 km NE of | This work |
| Ecuador | Cañar | Laguna de Nudpud, 1.6 km SE of | This work |
| Ecuador | Loja | Bosque Nativo Washapamba | Torres-Carvajal et al. 2014 |
| Ecuador | Loja | Fierro Urco | Venegas et al. 2006 |
| Ecuador | Loja | Gurudel, 6 km E of | Torres-Carvajal et al. 2014 |
| Ecuador | Loja | San Lucas | Venegas et al. 2006 |
| Ecuador | Loja | San Lucas, 6 km N of | Montanucci 1973 |
| Ecuador | Loja | Saraguro | Torres-Carvajal et al. 2014 |
| Ecuador | Loja | Saraguro, 6 km S of | Venegas et al. 2006 |
| Ecuador | Loja | Saraguro, 9.5 km S of | Montanucci 1973 |
| Ecuador | Loja | Urdaneta | Venegas et al. 2006 |
| Ecuador | Loja | Urdaneta, 11 km NE of | Montanucci 1973 |