Reptiles of Ecuador | Serpentes | Colubridae | Oxyrhopus | Oxyrhopus fitzingeri
English common names: Coastal Sand-Snakes.
Spanish common names: Culebra arenosa costera (Ecuador); culebra de costa, macanchillo (Peru).
Recognition: ♂♂ 64.7 cmMaximum distance from the snout to the tip of the tail. ♀♀ 100 cmMaximum distance from the snout to the tip of the tail.. In its area of distribution, the Coastal Sand Snake (Oxyrhopus fitzingeri) can be recognized based on its cream to light reddish-brown dorsum speckled with dark-brown to black pigment,1,2 and (in juveniles) a whitish nuchal collar.3 The spotbelly-snakes Coniophanes dromiciformis and C. longinquus are similar in coloration, but differ from O. fitzingeri by having a dorsal pattern of longitudinal lines.4 Adults of Leptodeira larcorum,5 and juveniles of Stenorrhina degenhardtii have dark transverse dorsal bands or patches,6–8 and adults of S. degenhardtii have a uniform dorsal coloration,3 whereas all these characteristics are absent in O. fitzingeri.
Picture: Adult from La Ceiba Reserve, Loja, Ecuador.
Natural history: Frequent. Oxyrhopus fitzingeri is a terrestrial and nocturnal9 snake that inhabits dry shrublands, deciduous forests, and pastures near the shoreline.10,11 Coastal Sand-Snakes can also be active among shrubs during overcast days12 or cross roads during torrential rains.13 Their diet includes lizards and rodents,2,14 which are presumably asphyxiated by constriction.1 Coastal Sand-Snakes are mildly venomous, which means they are dangerous to small prey, but only moderately to humans,15 yet individuals are regarded as a calm when handled. Oxyrhopus fitzingeri is oviparous16; females lay four eggs per clutch.2
Conservation: Least Concern.17 Oxyrhopus fitzingeri is listed in this category because the species is widely distributed, has presumed large population densities, and is present in protected areas in Ecuador (La Ceiba Natural Reserve and Arenillas Ecological Reserve) and Peru. Although Coastal Sand-Snakes suffer from human persecution and traffic mortality,13 neither these threats nor the expansion of the agricultural and urban frontier are considered to be serious enough to drive the species to extinction, at least not in the near-term future.17
Distribution: Oxyrhopus fitzingeri is native to the Tumbesian lowlands of southwestern Ecuador and western Peru.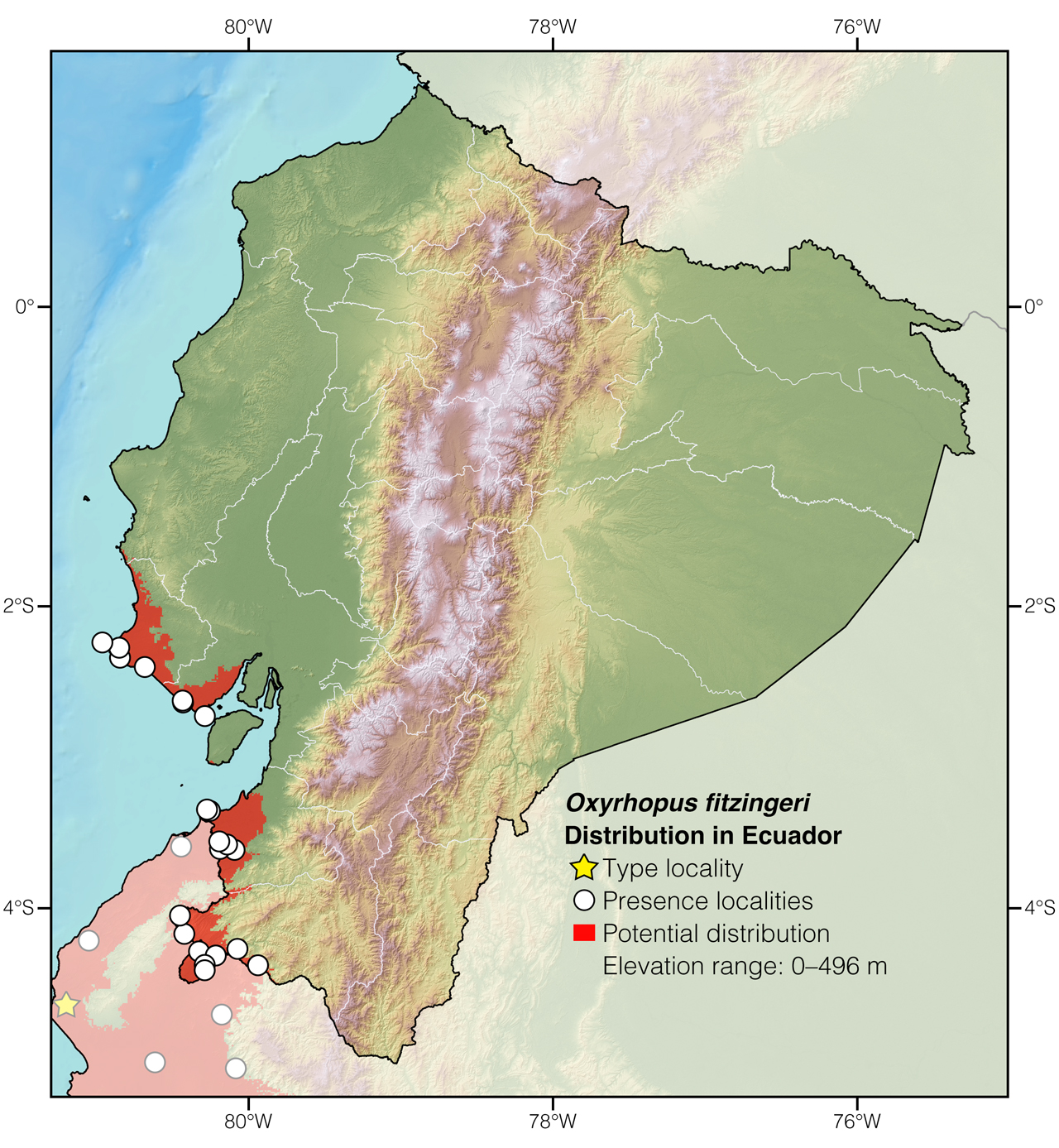 Etymology: The name Oxyrhopus, which comes from the Greek words oxys (meaning "quick") and rhops (meaning "bush"),18 refers to the escape behavior of snakes of these genus; that is, fleeing into bushes.19 The specific epithet of fitzingeri honors Leopold Josef Fitzinger (1802–1884), an Austrian naturalist who played a major role in advancing the knowledge about reptiles of the world16
See it in the wild: Coastal Sand-Snakes can be seen with ~5–10% certainty at La Ceiba Natural Reserve in southern Ecuador. The snakes may be spotted as they cross trails and roads in areas of dry forest, especially around sunset.
Authors: Amanda QuezadaaAffiliation: Tropical Herping (TH), Quito, Ecuador.,bAffiliation: Laboratorio de Herpetología, Universidad del Azuay, Cuenca, Ecuador. and Alejandro ArteagaaAffiliation: Khamai Foundation, Quito, Ecuador.
Photographer: Jose VieiraaAffiliation: Tropical Herping (TH), Quito, Ecuador.,cAffiliation: ExSitu, Quito, Ecuador.
How to cite? Quezada A, Arteaga A (2020) Oxyrhopus fitzingeri. In: Arteaga A, Bustamante L, Vieira J, Guayasamin JM (Eds) Reptiles of Ecuador: Life in the middle of the world. Available from: www.reptilesofecuador.com
Literature cited: