| | |
| --- | --- |
| Published March 31, 2021. Open access. | Gallery ❯ |
Mottled Dwarf-Gecko (Lepidoblepharis festae)
Reptiles of Ecuador | Sauria | Sphaerodactylidae | Lepidoblepharis festae
English common names: Mottled Dwarf-Gecko, Brown Dwarf-Gecko, Festa's Leaf-litter Gecko, Amazonian Scaly-eyed Gecko.
Spanish common names: Hojarito jaspeado, salamanquesa pestañuda oriental, geco oriental de pestañas.
Recognition: ♂♂ 8.7 cmMaximum distance from the snout to the tip of the tail. Snout–vent length=4.2 cm. ♀♀ 8.2 cmMaximum distance from the snout to the tip of the tail. Snout–vent length=3.9 cm.. Dwarf geckos differ from other lizards based on their small size, lack of moveable eyelids, presence of a scaly supraciliary flap, and their leaf-litter-dwelling habits.1,2 The Mottled Dwarf-Gecko (Lepidoblepharis festae) is the only member of its genus known to occur along the amazonian slopes of the Andes in Ecuador. It has a brownish dorsum with light orangish dorsolateral stripes on the anterior portion of the tail.3 This species is often confused with Pseudogonatodes guianensis, a smaller gecko that occurs on lower elevations and has white "teardrop" marks on the face.4 Males of L. festae differ from females by being more brightly colored, having a reddish-orange throat (white in females), and a silver escutcheon, a characteristic concentration of holocrine secretory glands, on the belly.
Figure 1: Mottled Dwarf-Geckos (Lepidoblepharis festae) from Sumaco Volcano, Napo province (), and San Pedro, Tungurahua province (), Ecuador. sa=subadult, j=juvenile.
Natural history: Locally frequentRecorded weekly in densities below five individuals per locality.. Lepidoblepharis festae is a cryptozoic (preferring moist, shaded microhabitats), terrestrial, and diurnal lizard that inhabits old-growth to moderately disturbed cloud forests as well as pastures and plantations adjacent to theses forests.5 Mottled Dwarf-Geckos spend most of their lives under dense layers of moss, thick accumulations of leaf-litter, or among roots and rock piles.5 Individuals are usually found at ground level, hiding under rotten logs, rocks, surfaces debris, or piles of leaves, but some have been taken from under moss of trees up to 1.5 m above the ground. There are records of snakes (Bothrocophias microphthalmus) preying upon geckos of this species.6 In the presence of a disturbance, individuals of L. festae will quickly flee under leaf-litter.5 If captured, they can readily shed the tail as well as portions of their skin. Mottled Dwarf-Geckos are susceptible to high temperatures, dying if exposed to the sun or even if handled for longer than just a few seconds. Females lay eggs under moss, damp leaf-litter, and in crevices in dirt walls.5
Conservation: Least Concern Believed to be safe from extinction given current circumstances..7,8 Lepidoblepharis festae is listed in this category because the species occurs in all major protected areas in the Amazonian slopes of the Ecuadorian Andes (Antisana Ecological Reserve, Cayambe Coca National Park, Llanganates National Park, Podocarpus National Park, Sangay National Park, and Sumaco National Park) and it is distributed over a comparatively wide (~19,617 km2) area that retains the majority (~81%)9 of its forest cover. Therefore, the species is considered to be facing no major immediate extinction threats.
Distribution: Lepidoblepharis festae is endemic to an estimated 19,617 km2 area along the Amazonian slopes of the Andes in Ecuador. The species occurs at elevations between 1071 and 1922 m (Fig. 2).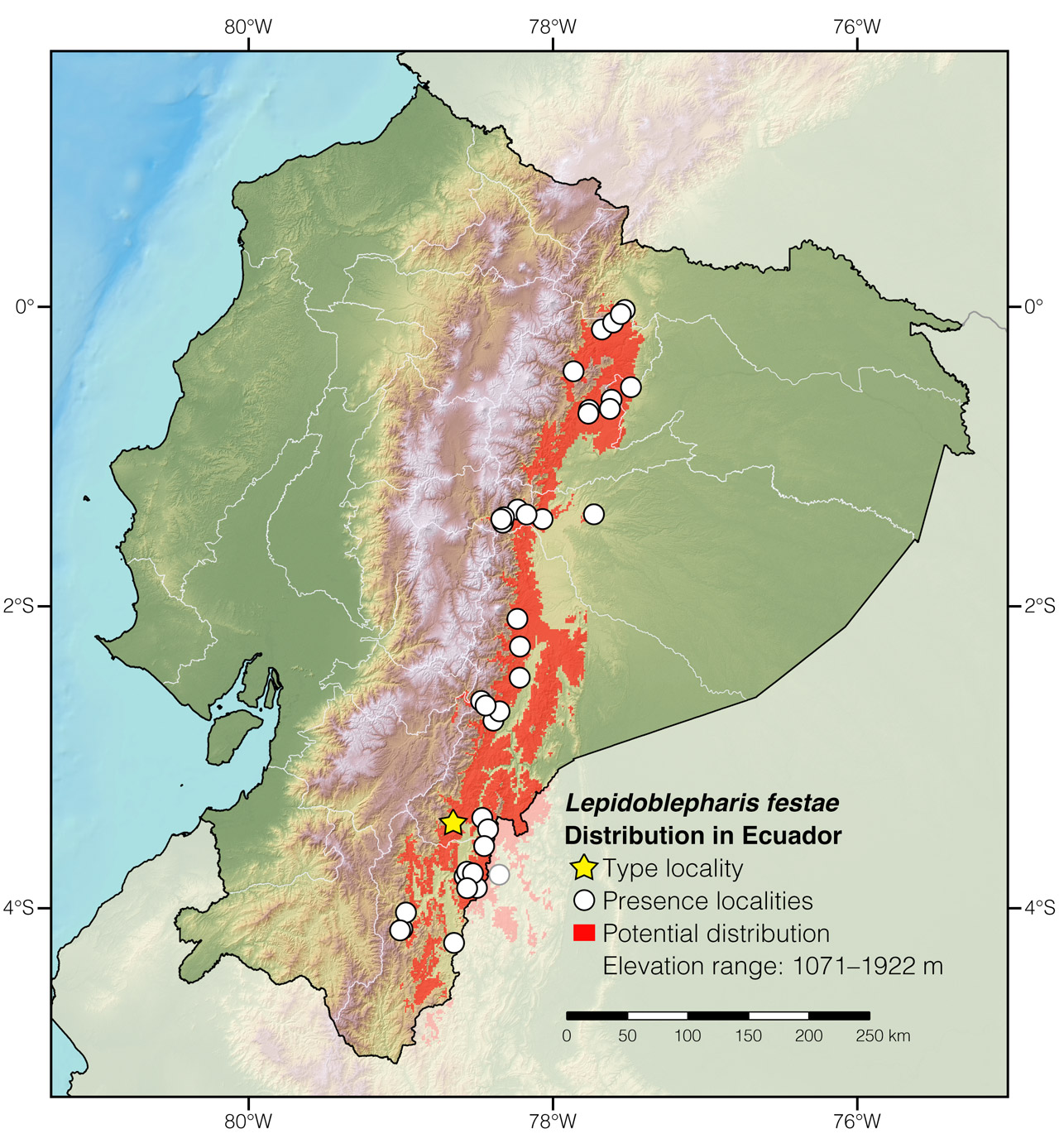 Figure 2: Distribution of Lepidoblepharis festae in Ecuador. See Appendix 1 for a complete list of the presence localities included in the map.
Etymology: The generic name Lepidoblepharis, which comes from the Greek words lepidos (meaning "scale") and blepharis (meaning "eyelash"),10 refers to the scaly supraciliary flaps that are characteristic to this group of geckos.3 The specific epithet festae honors Dr. Enrico Festa (1868–1939), an Italian zoologist who collected the holotype of the species.3
See it in the wild: Mottled Dwarf-Geckos are secretive lizards that are recorded rarely unless they are actively searched for by raking leaf-litter or by turning over rocks and rotten logs in humid, shaded microhabitats. Individuals can be found with ~5–15% certainty in Narupa Reserve, Río Zuñac Reserve, and Maycu Reserve.
Acknowledgments: This account was published with the support of Secretaría Nacional de Educación Superior Ciencia y Tecnología (programa INEDITA; project: Respuestas a la crisis de biodiversidad: la descripción de especies como herramienta de conservación; No 00110378), Programa de las Naciones Unidas (PNUD), and Universidad San Francisco de Quito (USFQ).
Special thanks to David Brouwer for symbolically adopting the Mottled Dwarf-Gecko and helping bring the Reptiles of Ecuador book project to life.
Click here to adopt a species.
Author: Alejandro ArteagaaAffiliation: Khamai Foundation, Quito, Ecuador.
Photographer: Jose VieiraaAffiliation: Tropical Herping (TH), Quito, Ecuador.,bAffiliation: ExSitu, Quito, Ecuador.
How to cite? Arteaga A (2021) Mottled Dwarf-Gecko (Lepidoblepharis festae). In: Arteaga A, Bustamante L, Vieira J, Guayasamin JM (Eds) Reptiles of Ecuador: Life in the middle of the world. Available from: www.reptilesofecuador.com. DOI: 10.47051/MTHJ9841
Literature cited:
Appendix 1: Locality data used to create the distribution map of Lepidoblepharis festae in Ecuador (Fig. 2). Go to the section on symbols and abbreviations for a list of acronyms used.
| | | | |
| --- | --- | --- | --- |
| Country | Province | Locality | Source |
| Ecuador | Morona Santiago | Bosque Protector Abanico | Lozano & Medranda 2008 |
| Ecuador | Morona Santiago | Centro Shuar Yukutais | Photo by Alex Achig |
| Ecuador | Morona Santiago | Nuevo Triunfo | MECN 10694 |
| Ecuador | Morona Santiago | Reserva Biológica El Quimi | Betancourt et al. 2018 |
| Ecuador | Morona Santiago | San José de Cuchipamba | Peracca 1897 |
| Ecuador | Morona Santiago | Santiago de Méndez | USNM 166142 |
| Ecuador | Morona Santiago | Sardinayacu | MECN 12375 |
| Ecuador | Morona Santiago | Sevilla de Oro–Méndez | Miyata 1985 |
| Ecuador | Morona Santiago | Sucúa | USNM 166142 |
| Ecuador | Morona Santiago | Tambos Mirador–Copal | Miyata 1985 |
| Ecuador | Napo | Borja | Miyata 1985 |
| Ecuador | Napo | Cordillera del Dué | KU 121945 |
| Ecuador | Napo | Narupa | This work |
| Ecuador | Napo | Quebrada Pungarayacu | MZUTI 1674 |
| Ecuador | Napo | Río Azuela | KU 158529 |
| Ecuador | Napo | Sumaco Camp 1 | This work |
| Ecuador | Napo | Wildsumaco Wildlife Sactuary | Knowles et al. (in press) |
| Ecuador | Orellana | Cascada de San Rafael | Torres-Carvajal et al. 2019 |
| Ecuador | Orellana | Río Bigal Biological Reserve | Photo by Thierry García |
| Ecuador | Pastaza | Oglán Alto | MECN 3039 |
| Ecuador | Pastaza | Río Anzu Reserve | MECN, Jocotoco and Ecominga 2014 |
| Ecuador | Sucumbíos | El Reventador | MHNG 2356.058 |
| Ecuador | Tungurahua | Comuna Azuay | MECN 10443 |
| Ecuador | Tungurahua | La Candelaria Reserve | MECN, Jocotoco and Ecominga 2014 |
| Ecuador | Tungurahua | Río Verde | This work |
| Ecuador | Tungurahua | Río Zuñac Reserve | MECN, Jocotoco and Ecominga 2014 |
| Ecuador | Tungurahua | San Pedro | This work |
| Ecuador | Zamora Chinchipe | Alto Machinaza | Almendariz et al. 2014 |
| Ecuador | Zamora Chinchipe | Alto Machinaza (1300 m) | Almendariz et al. 2014 |
| Ecuador | Zamora Chinchipe | Bombuscaro | Online multimedia |
| Ecuador | Zamora Chinchipe | Concesión Colibrí | MECN 8485 |
| Ecuador | Zamora Chinchipe | Concesión ECSA | MECN 8524 |
| Ecuador | Zamora Chinchipe | El Genairo | This work |
| Ecuador | Zamora Chinchipe | La Zarza | Dueñas & Valencia 2018 |
| Ecuador | Zamora Chinchipe | Reserva Forestal El Zarza | iNaturalist |
| Ecuador | Zamora Chinchipe | Reserva Natural Maycu | This work |
| Ecuador | Zamora Chinchipe | Sendero Higuerones | This work |
| Peru | Amazonas | Quebrada Shinganatza | Almendáriz et al. (2014) |
| Peru | Amazonas | Quebrada Wee | Catenazzi & Venegas 2012 |