Amazon Dwarf-Iguana
Reptiles of Ecuador | Sauria | Hoplocercidae | Enyalioides laticeps
Spanish common name: Iguana enana amazónica.
Conservation: Least Concern.
Recognition: ♂♂ 42.4 cm ♀♀ 36 cm. Enyalioides laticeps is the only dwarf iguana in Amazonian Ecuador having a relatively smooth tail, and a longitudinal pale stripe running from the corner of the mouth to the tympanum.1 Adults of this species also have a middorsal crest higher than that of other species.2 A species similar in coloration is E. praestabilis, but this lizard lacks the horizontal lip stripe.
Picture: Adult male.
Picture: Adult female.
Picture: Subadult male.
Picture: Juvenile.
Natural history: Frequent. Enyalioides laticeps is a diurnal sunlight-loving3 semiarboreal lizard that sleeps inside holes in the ground or on stems or palm fronds4 30–240 cm above the ground during the night. It is more common in primary evergreen forest but is also found in secondary forest.5 Enyalioides laticeps is an ambush predator4 that feeds mostly on spiders, caterpillars, and beetle grubs,5 but it also includes grasshoppers, crickets, and earthworms in its diet.4 This species is preyed upon by the snake Siphlophis compressus.6 Females of E. laticeps breed throughout the year3 and are capable of laying between 5 and 11 eggs.3,7 This species avoids predators by staying still and blending against the vegetation or by moving up and around trunks,4 but is also capable of running suddently under logs or in holes in the ground.
Conservation: Least Concern. We consider Enyalioides laticeps to be in this category following IUCN criteria8 because it is widely distributed, occurs in protected areas and (presumably) is not undergoing population declines nor facing major immediate threats of extinction.
Distribution: Native to the upper Amazon basin in Brazil, Colombia, Ecuador and Peru.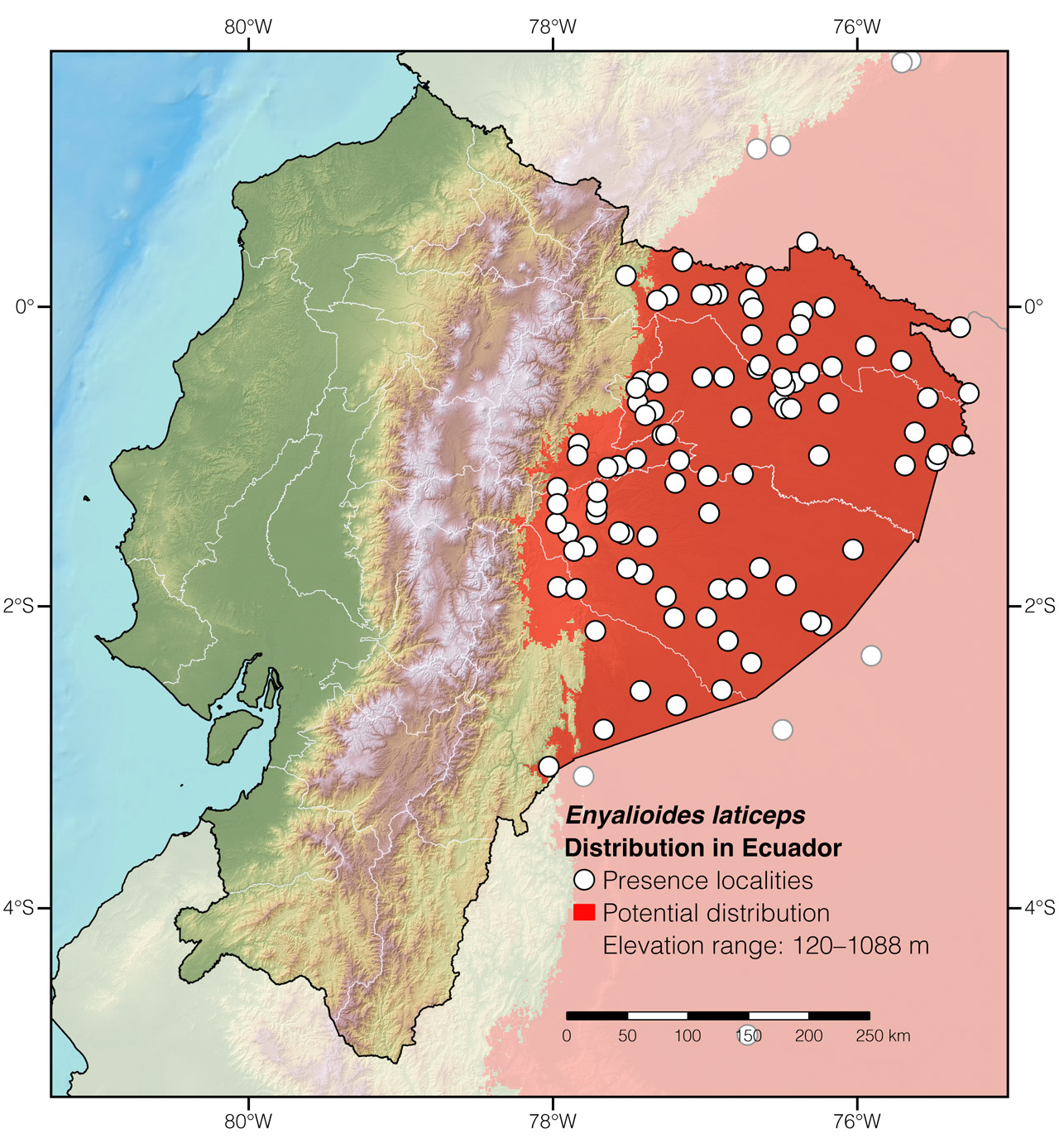 Etymology: The generic name Enyalioides, which comes from the Latin words Enyalius (a genus of Neotropical lizards) and oides (meaning "similar to"), refers to the similarity between lizards of the two genera.9 The specific epithet laticeps, which comes from the Latin words latus (meaning "broad") and ceps (meaning "head"),10 is appropriate for this big-headed species.
Special thanks to Suzana Lightman for symbolically adopting the Amazon Dwarf-Iguana and helping bring the Reptiles of Ecuador book project to life.
Click here to adopt a species.
Authors: Alejandro ArteagaaAffiliation: Khamai Foundation, Quito, Ecuador. and Gabriela Aguiar.
Literature cited: