| | |
| --- | --- |
| Published July 1, 2023. Updated November 9, 2023. Open access. | Gallery ❯ |
Soini's Anole (Anolis soinii)
Reptiles of Ecuador | Sauria | Anolidae | Anolis soinii
English common name: Soini's Anole.
Spanish common name: Anolis de Soini.
Recognition: ♂♂ 30.3 cmMaximum distance from the snout to the tip of the tail. Snout–vent length=8.2 cm. ♀♀ 28.1 cmMaximum distance from the snout to the tip of the tail. Snout–vent length=7.8 cm..1 Anoles are easily distinguishable from other lizards by their diurnal habits, extensible dewlap in males, expanded digital pads, and granular scales on the dorsum and belly. The Soini's Anole (Anolis soinii) can be identified from other co-occurring anoles based on its green dorsal coloration and white dewlap in males.1,2 Females usually have a pale cream vertebral stripe and no dewlap (Fig. 1). Males have a dark oval spot on the side of the neck as well as a dark postocular stripe.1,2 Anolis soinii is usually found in the same habitats as A. podocarpus, but the latter can be identified by having a reticulated dorsal coloration and a pinkish brown dewlap.3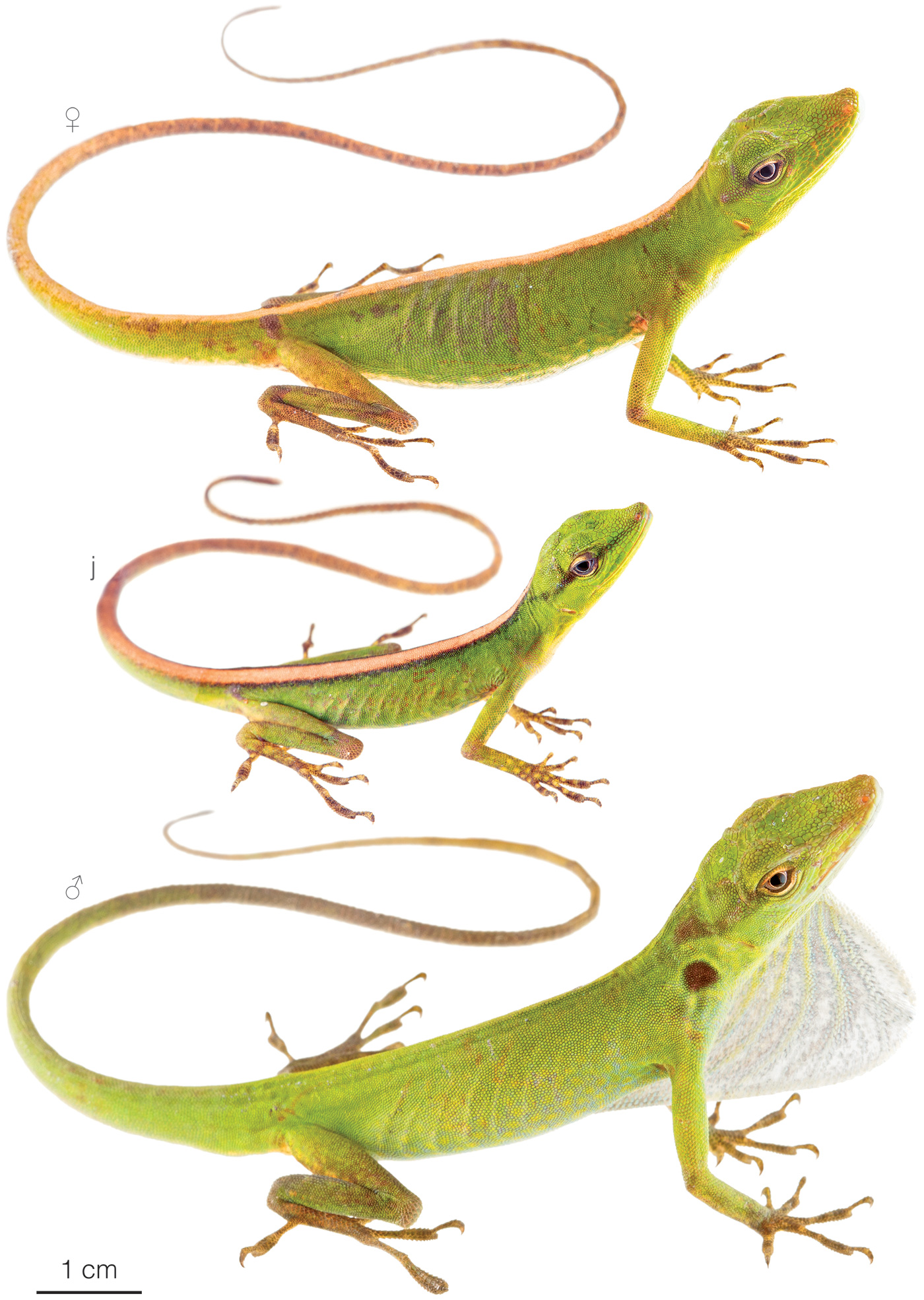 Figure 1: Individuals of Anolis soinii from San Francisco Research Station, Zamora Chinchipe province, Ecuador. j=juvenile.
Natural history: Anolis soinii is a locally frequent diurnal and arboreal lizard that inhabits old-growth to moderately disturbed cloud forests, riparian forests, and pastures with scattered trees.1,4 During the daytime, Soini's Anole are active on tree trunks or on shrubs in the forest understory.2,4 At night, individuals have been found sleeping on flimsy ferns and leaves 0.7–4.5 m above the ground.1,2,4 Anolis soinii is an oviparous species,5 but the clutch size and nesting sites are not known.
Conservation: Least Concern Believed to be safe from extinction given current circumstances..6 Anolis soinii is included in this category because the species is distributed over an area greater than 30,000 km2 along the Cordillera del Cóndor, a region that still holds large sections of continuous unspoiled forest.6 Unfortunately, an ever increasing percentage of the mountain range is being cleared to make room for large-scale opencast mining operations.7 Thus, A. soinii may qualify for a threatened category in the future if deforestation in the Cordillera del Cóndor continues.
Distribution: Anolis soinii is distributed along the Amazonian slopes of the Andes in southeastern Ecuador (Fig. 2) and northwestern Peru, particularly along the Cordillera del Cóndor.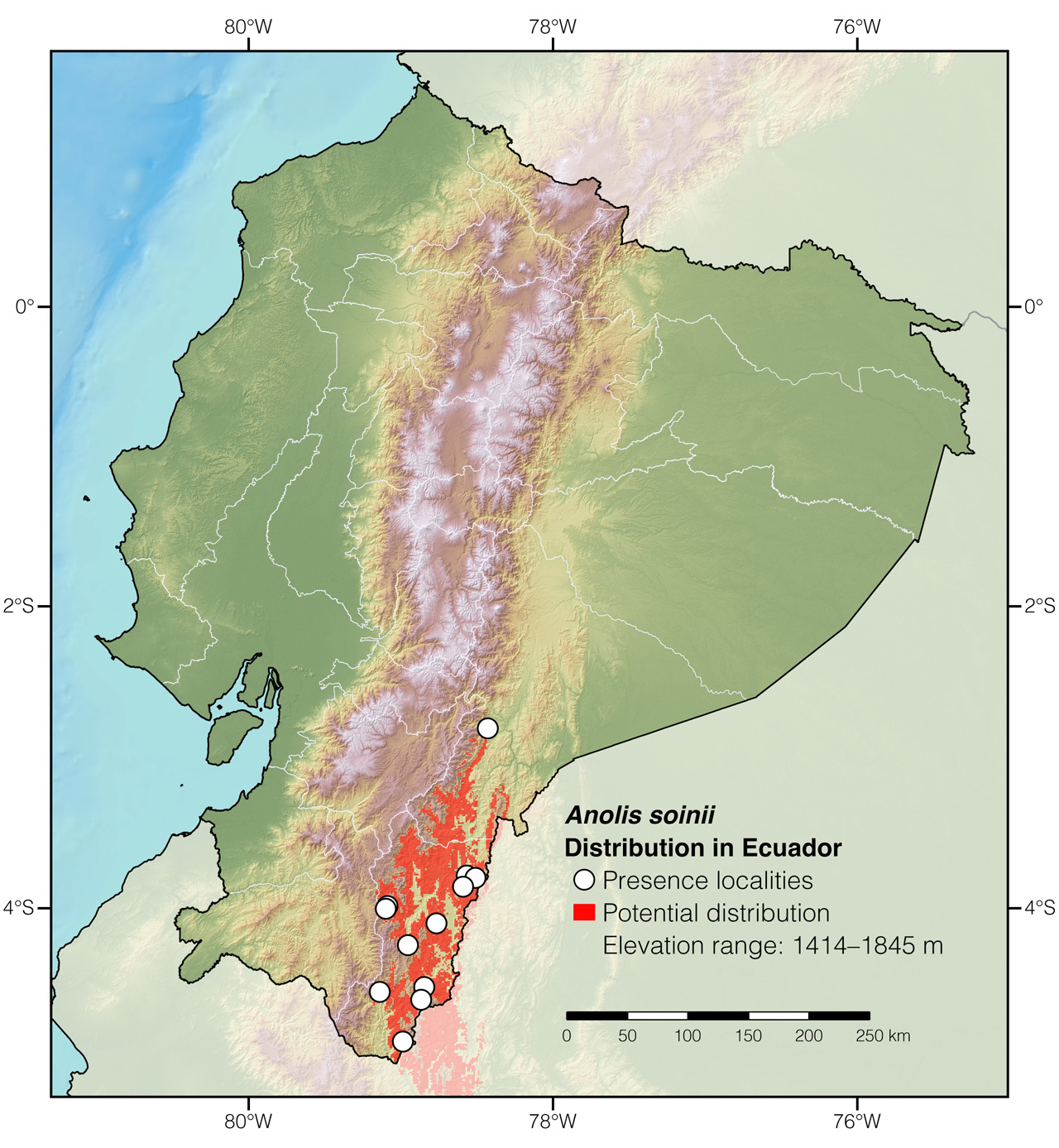 Figure 2: Distribution of Anolis soinii in Ecuador. See Appendix 1 for a complete list of the presence localities included in the map.
Etymology: The generic name Anolis is thought to have originated from Cariban languages, specifically from the word anoli, which is the name Arawak peoples may have used to refer to this group of lizards.8 The specific epithet soinii honors Finnish biologist and naturalist Pekka Soini (1941–2004), in recognition of his outstanding contributions to Peruvian herpetology. Pekka spent more than a decade in the Pacaya-Samiria National Reserve, from where he would periodically send his "Informes del Pacaya," with new information on primates, reptiles, fish and a range of other topics.9
See it in the wild: Soini's Anoles can be located with almost complete certainty during a short night hike along forest trails in San Francisco Research Station and Refugio de Vida Silvestre El Zarza. Although these lizards are active during the day, they are more easily located at night, as they will be roosting on ferns and leaves where their bright whitish bellies stand out when lit with a flashlight.
Author: Alejandro ArteagaaAffiliation: Khamai Foundation, Quito, Ecuador.
Photographer: Jose VieirabAffiliation: Tropical Herping (TH), Quito, Ecuador.,cAffiliation: ExSitu, Quito, Ecuador.
How to cite? Arteaga A (2023) Soini's Anole (Anolis soinii). In: Arteaga A, Bustamante L, Vieira J, Guayasamin JM (Eds) Reptiles of Ecuador: Life in the middle of the world. Available from: www.reptilesofecuador.com. DOI: 10.47051/OAIA5478
Literature cited:
Poe S, Yañez-Miranda C (2008) Another new species of green Anolis (Squamata: Iguania) from the eastern Andes of Peru. Journal of Herpetology 42: 564–571. DOI: 10.1670/07-264.1
Ayala-Varela F, Poe S, Carvajal-Campos A, Gray L, Davis J, Almendáriz A (2011) Anolis soinii Poe and Yañez-Miranda, 2008 (Squamata: Iguanidae: Polychrotinae): distribution extension, first records for Ecuador and notes on geographic variation. Check List 7: 629–631. DOI: 10.15560/7.5.629
Ayala-Varela F, Torres-Carvajal O (2010) A new species of dactyloid anole (Iguanidae, Polychrotinae, Anolis) from the southeastern slopes of the Andes of Ecuador. ZooKeys 53: 59–73. DOI: 10.3897/zookeys.53.456
Brito J, Cisneros-Heredia DF, Yánez-Muñoz MH, Venegas P (2019) Anolis soinii. The IUCN red list of threatened species. Available from: www.iucnredlist.org. DOI: 10.2305/IUCN.UK.2019-2.RLTS.T50950414A50950417.en
Appendix 1: Locality data used to create the distribution map of Anolis soinii in Ecuador (Fig. 2). Go to the section on symbols and abbreviations for a list of acronyms used.
| | | | |
| --- | --- | --- | --- |
| Country | Province | Locality | Source |
| Ecuador | Morona Santiago | Área Protegida Río Negro Sopladora | Frenkel & Rodas 2017 |
| Ecuador | Zamora Chinchipe | Alto Machinaza | Almendariz et al. 2014 |
| Ecuador | Zamora Chinchipe | Bosque Protector del Alto Nangaritza | iNaturalist; photo examined |
| Ecuador | Zamora Chinchipe | Campamento Las Peñas | iNaturalist; photo examined |
| Ecuador | Zamora Chinchipe | Estación Biológica San Francisco | Torres-Carvajal et al. 2017 |
| Ecuador | Zamora Chinchipe | Guayzimi alto | Reptiles of Ecuador book database |
| Ecuador | Zamora Chinchipe | Las Tres Aguas | QCAZ 12518; Ayala-Varela & Carvajal-Campos 2020 |
| Ecuador | Zamora Chinchipe | Reserva Biológica Cerro Plateado | QCAZ 14938; Ayala-Varela & Carvajal-Campos 2020 |
| Ecuador | Zamora Chinchipe | Reserva Forestal El Zarza | Ayala-Varela et al. 2011 |
| Ecuador | Zamora Chinchipe | Río Zamora | iNaturalist; photo examined |
| Ecuador | Zamora Chinchipe | Romerillos Alto | Ayala-Varela et al. 2011 |
| Ecuador | Zamora Chinchipe | Valladolid–Yangana | Ayala-Varela et al. 2011 |
| Peru | San Martín | Venceremos | Poe & Yañez-Miranda 2008 |