| | |
| --- | --- |
| Published August 23, 2023. Open access. | Gallery ❯ |
Lynch's Anole (Anolis lynchi)
Reptiles of Ecuador | Sauria | Anolidae | Anolis lynchi
English common name: Lynch's Anole.
Spanish common name: Anolis de Lynch.
Recognition: ♂♂ 18.0 cmMaximum distance from the snout to the tip of the tail. Snout–vent length=6.2 cm. ♀♀ 16.6 cmMaximum distance from the snout to the tip of the tail. Snout–vent length=5.9 cm..1 Anoles are easily distinguishable from other lizards by their diurnal habits, extensible dewlap in males, expanded digital pads, and granular scales on the dorsum and belly. The Lynch's Anole (Anolis lynchi) can be distinguished from other co-occurring anoles based on dewlap and dorsum coloration. The dewlap, which is medium-sized and colored orange, extends from just below the midpoint of the orbit to a point located beneath the axilla.1 The dorsum is orangish brown with a dark postocular-dorsolateral stripe bordered below by a dingy white line (Fig. 1). Individuals of A. granuliceps differ from those of A. lynchi by having a broader dorsolateral stripe and a much smaller yellow dewlap in males.2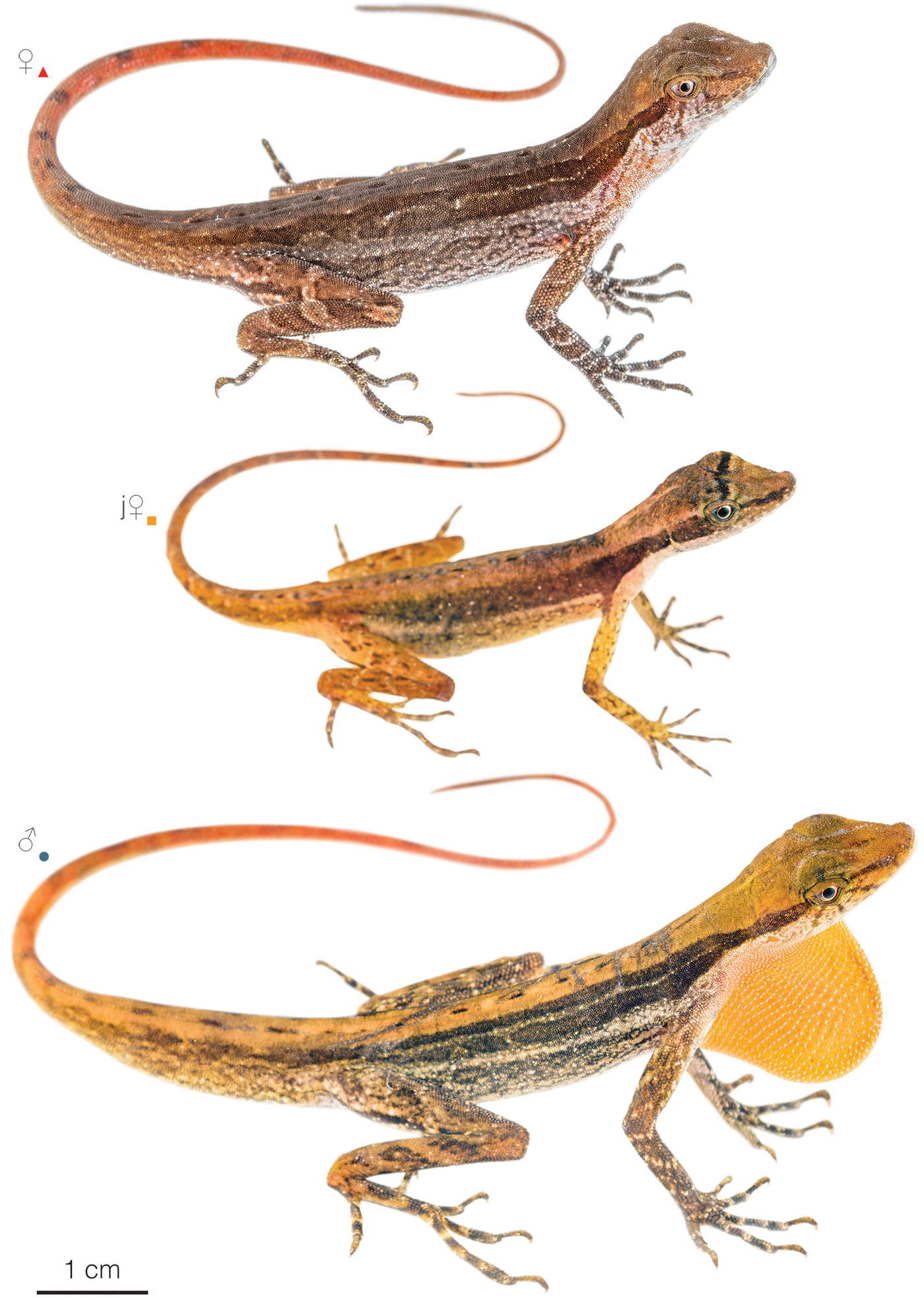 Figure 1: Individuals of Anolis lynchi from Ecuador: FCAT Reserve, Esmeraldas province (); Bosque Protector La Perla, Santo Domingo de los Tsáchilas province (); Mashpi Reserve, Pichincha province (). j=juvenile.
Natural history: Anolis lynchi is an uncommon anole that inhabits stream-side vegetation inside old-growth to moderately disturbed rainforests.1–4 Lynch's Anoles are diurnal, semi-aquatic, and included in the "ground-trunk" anole ecomorph.4,5 They forage on leaf-litter, logs, or on low herbaceous vegetation.6 They also dwell in streams, rocky creek beds,3 and in the spray zone of small waterfalls,7 frequently diving for refuge or food.8 While submerged, these lizards display a unique ability for underwater "rebreathing." They form a bubble over their dorsal or lateral head surfaces, allowing them to re-breathe this trapped air.8 At night, they sleep at ground level in leaf-litter, among fallen trunks, or roost on leaves, ferns, and thin twigs and branches 0.2–2 m above the forest floor or directly above streams.1,3,6 Their preference for fragile perches serves the purpose of predator detection; they sense vibrations on these perches, responding with quick jumps to vanish into the darkness. Lynch's Anoles rely primarily on their "dry leaf" camouflage to evade detection, thus they tend to avoid perching on brightly green leaves during daylight. While anole species in general lay clutches of one egg at a time,9,10 specific details about clutch size and nesting sites for A. lynchi remain unknown.
Conservation: Near Threatened Not currently at risk of extinction, but requires some level of management to maintain healthy populations.. The NT status is proposed instead of the current LC categorization11 because the updated estimated extent of occurrence spans less than 20,000 km2 (Fig. 2). The species faces mounting habitat pressures from deforestation, notably driven by the transformation of rainforests into palm oil plantations.11 Approximately 64% of the species' potential distribution area has already been converted into pastures and agricultural fields.12,13 Furthermore, the area experiences an annual loss of an additional 254 km2 of forest cover. The once-forested type locality now lies extensively deforested, rendering the survival of the species there unlikely. Thankfully, periodic recordings of A. lynchi occur within national parks and private reserves.
Distribution: Anolis lynchi is native to an estimated area of 19,972 km2 in the Chocoan lowlands and adjacent Andean foothills of southwestern Colombia and northwestern Ecuador (Fig. 2).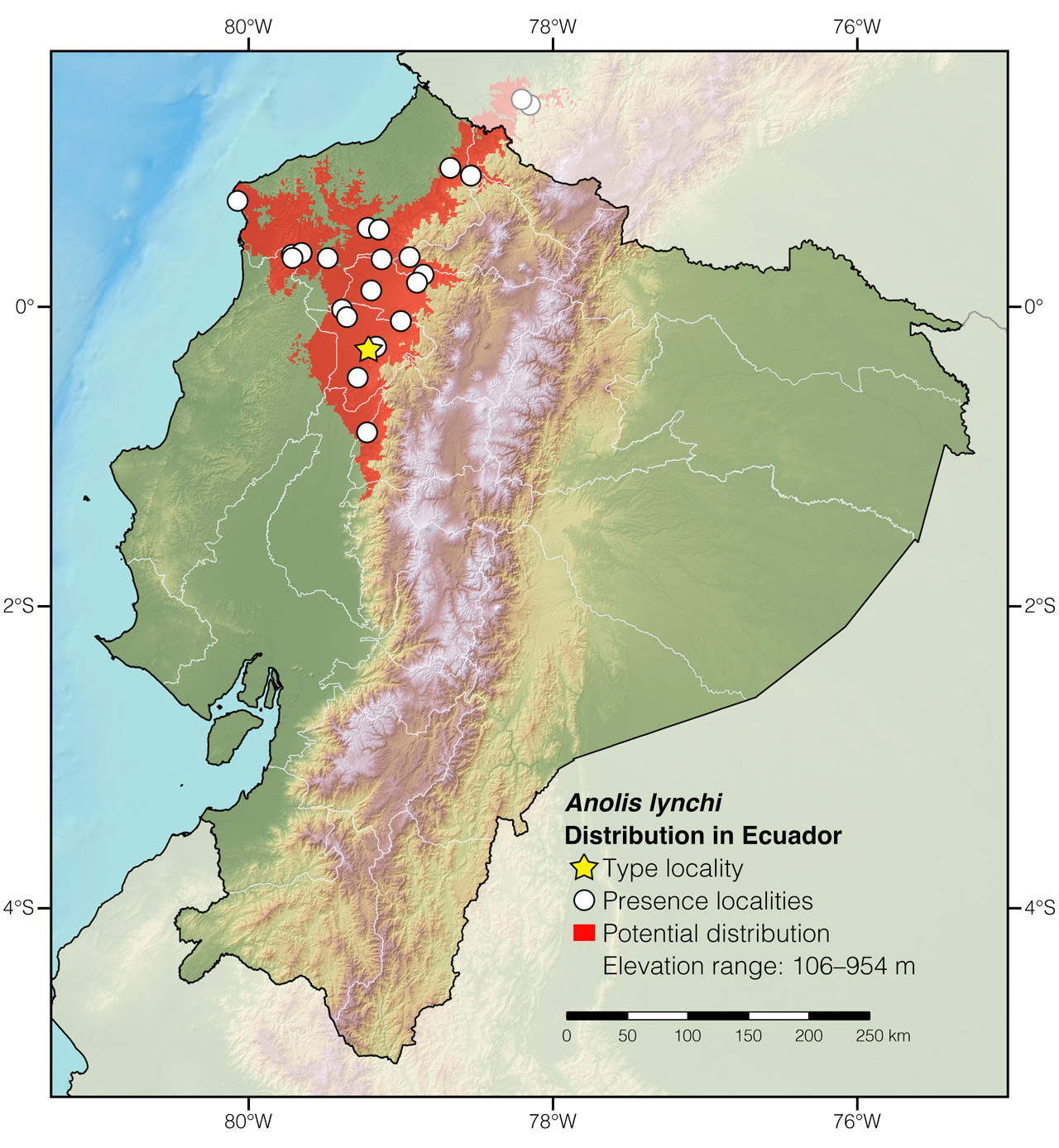 Figure 2: Distribution of Anolis lynchi in Ecuador. The star corresponds to the type locality: Santo Domingo de los Colorados, Santo Domingo de los Tsáchilas province. See Appendix 1 for a complete list of the presence localities included in the map.
Etymology: The generic name Anolis is thought to have originated from Cariban languages, specifically from the word anoli, which is the name Arawak peoples may have used to refer to this group of lizards.14 The specific epithet lynchi honors American herpetologist John Lynch, in recognition of his innumerable excursions into the Ecuadorian night, which resulted in thousands of herpetological specimens.1
See it in the wild: Lynch's Anoles primarily inhabit closed-canopy riparian environments. In Ecuador, prime locations for encountering these lizards include the Bilsa Biological Reserve, FCAT Reserve, and Bosque Protector La Perla. While they are active during the day, it's more convenient to find them at night when they rest on leaves and small twigs along forest creeks. Their pale nocturnal coloration stands out against the darkness when illuminated with a flashlight.
Author: Alejandro ArteagaaAffiliation: Khamai Foundation, Quito, Ecuador.
Photographer: Jose VieirabAffiliation: Tropical Herping (TH), Quito, Ecuador.,cAffiliation: ExSitu, Quito, Ecuador.
How to cite? Arteaga A (2023) Lynch's Anole (Anolis lynchi). In: Arteaga A, Bustamante L, Vieira J, Guayasamin JM (Eds) Reptiles of Ecuador: Life in the middle of the world. Available from: www.reptilesofecuador.com. DOI: 10.47051/DZMV3685
Literature cited:
Appendix 1: Locality data used to create the distribution map of Anolis lynchi in Ecuador (Fig. 2). Go to the section on symbols and abbreviations for a list of acronyms used. Asterisk (*) indicates type locality.
| | | | |
| --- | --- | --- | --- |
| Country | Province | Locality | Source |
| Colombia | Nariño | Junín | iNaturalist; photo examined |
| Colombia | Nariño | Reserva Natural El Pangán | iNaturalist; photo examined |
| Ecuador | Cotopaxi | Bosque Privado El Jardín de los Sueños | iNaturalist; photo examined |
| Ecuador | Esmeraldas | Bilsa Biological Reserve | Reptiles of Ecuador book database |
| Ecuador | Esmeraldas | Bosque Protector La Perla | This work; Fig. 1 |
| Ecuador | Esmeraldas | Cabeceras del Río Tóngora | Ayala-Varela & Carvajal-Campos 2022 |
| Ecuador | Esmeraldas | Canandé Biological Reserve | Reptiles of Ecuador book database |
| Ecuador | Esmeraldas | El Placer, 2 km W of | Miyata 1985 |
| Ecuador | Esmeraldas | Hacienda Equinox, 2 km S of | USNM 234700; examined |
| Ecuador | Esmeraldas | Itapoa Reserve | Reptiles of Ecuador book database |
| Ecuador | Esmeraldas | Lote Salvadores | This work; Fig. 1 |
| Ecuador | Esmeraldas | Quinindé | USNM 234716; examined |
| Ecuador | Esmeraldas | Reserva Ecológica Mache-Chindul | iNaturalist; photo examined |
| Ecuador | Esmeraldas | Río Cuchubí | Ayala-Varela & Carvajal-Campos 2022 |
| Ecuador | Imbabura | Río Aguas Verdes | Ayala-Varela & Carvajal-Campos 2022 |
| Ecuador | Imbabura | Río Bolaniguas | USNM 234695; VertNet |
| Ecuador | Pichincha | El Chalpi-Saguangal | Carrera et al. 2009 |
| Ecuador | Pichincha | Finca Selva Virgen | Reptiles of Ecuador book database |
| Ecuador | Pichincha | Ganaderos Orenses | iNaturalist; photo examined |
| Ecuador | Pichincha | Mashpi Reserve | This work; Fig. 1 |
| Ecuador | Pichincha | Monterreal Rainforest Ecolodge | Boccia et al. 2021 |
| Ecuador | Santo Domingo de los Tsáchilas | El Esfuerzo, 6 km ESE of | MCZ 171867; VertNet |
| Ecuador | Santo Domingo de los Tsáchilas | Santo Domingo de los Colorados* | Miyata 1985 |